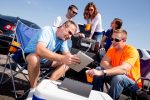 SOLAR PANELS ARE MADE IN THE USA The solar panels are engineered and 100% made in Thornton, CO (Right outside of Denver) Built with the World's Most Awarded Solar, one of TIME Magazine's Top 50 Inventions.
It is a fact, solar power is our future, and our Kickr IV's are fun, useful and futuristic giving you both piece of mind to always be Powered UP and a little ray of the solar future to come.  And the solar panels are made in the USA and sold by a woman owned small business in the Midwest!  These make great gifts for any occasion.  Thank you for your interest and we hope you enjoy the Kickr IV as much as we do!
Solar Panel Chargers
The Kickr IV is a foldable, compact 4-panel charger that goes everywhere you go; biking, hiking, boating, camping, beaching, the pool, outdoor sports events, and more.  You can attach them to backpacks, tents, trees, bushes, decks, beach blankets, RV's and campers, motorcycles, strollers,whatever. Use the Kickr™ IV to charge your device directly, using the power of the sun, at the same rate as a standard wall outlet. You can also charge a battery pack with your Kickr™ IV, and if the sun is not shining, you can simply and quickly hook the battery pack to your device and Power UP!