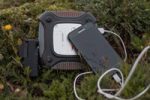 THESE ARE NOW SOLD OUT.  There are no more available.  THESE SOLAR PANELS WERE MADE IN THE USA The solar panels Were engineered and 100% made in Thornton, CO (Right outside of Denver) Built with the World's Most Awarded Solar, one of TIME Magazine's Top 50 Inventions.
You will be amazed by this solar generator; clean, quiet and powered by the sun with the EnerPlex Commandr 20 and you can also charge it with a standard wall outlet. Perfect for emergency power outages!
You will always have a way to power up your laptop or other 110V devices and your USB or Apple devices, such as cell phones, tablets, cameras, blue tooth devices and more.  The EnerPlex Generatr 100 is the smaller of two Solar Power Generators available.   You can stay Powered UP with this in  your emergency kit.  And you know those who are hard to buy gifts for? Why not one of these?  They only weigh a few pounds, so they can go anywhere and Power You UP!
• 94 watt-hour battery, designed to power small-to-medium electronics, including laptops
• Made with Lithium ion technology, making it a lightweight alternative to heavier lithium polymer batteries, and perfect for air-travel,camping, hunting, and emergency preparedness.
• Recharge either via a standard wall outlet or the sun with Commandr solar panels by EnerPlex
• (2) USB ports, 12V/19V output & an integrated 110V standard wall outlet. Plug your devices right in, as if it were the wall
• Dual charging capabilities: Use the A/C and USB outputs at the same time.
• Our patented technology allows our solar to be the most rugged and flexible on the market
• This rugged construction gives the Commandr Series the ability to operate in even the harshest conditions