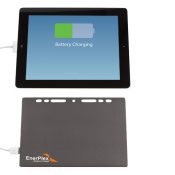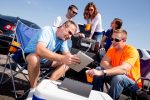 Jumpr Slate 10K  $75.00
The Jumpr Slate 10K has a 10,000 mAh battery, 2 USB outputs, micro USB input, and binder cutouts, making it easy to put into planners and briefcases.   The dual 2.4 amp outputs allow users to charge two devices, even tablets, at once, so you can always make sure all of your devices are powered up.
The Jumpr Slate are the thinnest battery solution available for charging smartphones,  e-readers, tablets
cameras, GPS, MP3's, headphones, and bluetooth devices . And since the Jumpr Slate 10K weighs less than a pound, you can easily slip it into a notebook, a binder, your pocket, a purse, backpack, even your suit jacket.
Red Dot Design Award Winner.